Articles | Volume 18, issue 6
https://doi.org/10.5194/os-18-1665-2022
© Author(s) 2022. This work is distributed under
the Creative Commons Attribution 4.0 License.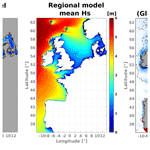 Accuracy of numerical wave model results: application to the Atlantic coasts of Europe
Numerical wave models are generally less accurate in the coastal ocean than offshore. It is generally suspected that a number of factors specific to coastal environments can be blamed for these larger model errors: complex shoreline and topography, relatively short fetches, combination of remote swells and local wind seas, less accurate wind fields, presence of strong currents, bottom friction, etc. These factors generally have strong local variations, making it all the more difficult to adapt a particular model setup from one area to another. Here we investigate a wide range of modeling choices including forcing fields, spectral resolution, and parameterizations of physical processes in a regional model that covers most of the Atlantic and North Sea coasts. The effects of these choices on the model results are analyzed with buoy spectral data and wave parameter time series. Additionally, satellite altimeter data are employed to provide a more complete performance assessment of the modeled wave heights as a function of the distance to the coast and to identify areas where wave propagation is influenced by bottom friction. We show that the accurate propagation of waves from offshore is probably the most important factor on exposed shorelines, while other specific effects can be important locally, including winds, currents, and bottom friction.
Received: 10 Jun 2022 – Discussion started: 28 Jun 2022 – Revised: 09 Oct 2022 – Accepted: 18 Oct 2022 – Published: 22 Nov 2022
Numerical wave models have been used from the global ocean to the coast, for a wide range of applications, including the design and safe operation of seagoing structures such as ships, platforms, and wind turbines. The progressive improvement in parameterizations in spectral wave models based on the wave action equation, like SWAN (Booij et al., 1999) or WAVEWATCH III® (The WAVEWATCH III® Development Group, 2019) (WW3), has helped to continuously extend their use into coastal regions and areas with shallower water depths. With the introduction of currents, bottom friction related to different sediment types, and coastal reflection, errors in the main wave parameters have dropped to levels similar to open-ocean simulations (Ardhuin et al., 2012; Roland and Ardhuin, 2014; Salmon et al., 2015). High-resolution modeling has also become more efficient with the implementation of unstructured grids (mesh), providing flexible spatial resolution taking into account wave characteristics and bathymetry features (Benoit et al., 1996; Roland, 2008; Dietrich et al., 2011; Alves et al., 2013). In particular, previous works by Boudière et al. (2013) and Wu et al. (2020) present the implementation and validation of high-resolution hindcasts for wave resource assessments along French waters and the US west coast, respectively.
In general, the accuracy of spectral models is a function of at least three main factors: first, the accuracy of forcing fields (e.g., Cavaleri and Bertotti, 1997); second, the realism of the parameterization of processes representing spectral wave evolution (e.g., Ardhuin et al., 2010); and third, discretization and numerical schemes (e.g., Tolman, 1995a; Roland and Ardhuin, 2014). For example, in the hindcast presented in Alday et al. (2021), more accurate wave height distributions were obtained at a global scale by adjusting parameterizations and discretizations. When it comes to nested models, the characteristics of the boundary conditions should also be taken into account.
In the present paper the analysis is extended to intermediate and shallow-water depths. To this end, we present a high-resolution wave hindcast for European Atlantic waters, using boundary conditions from Alday et al. (2021). Throughout the study we attempt to determine which elements in the model setup have a significant effect on the characteristics of the simulated sea states and hence the accuracy of the results. Given the wide range of bathymetry features, bottom sediment types, fetch, and tidal amplitudes in coastal environments, we also verify when and where these choices introduce important changes.
Particular attention is paid to the effects of tidal currents, directional resolution, and bottom friction over the simulated wave fields. Performance analysis of the results is conducted in terms of the significant wave heights, directional spreading, peak direction, and mean periods. Additionally, analyses on the energy distribution as a function of frequency were conducted to further explore the changes introduced through modifications in the forcing, resolution, or the boundary conditions.
Details on the model setup, source terms, and numerical choices are presented in Sect. 2. Wave measurements used for sensitivity analyses and validation are given in Sect. 3. The model performance analysis is described in Sects. 4 and 5, followed by its validation and conclusions in Sects. 6 and 7.
2
 Model setup and sensitivity tests
3.1

 Buoy data

We use six French buoys with spectral data provided by CEREMA (Centre d'études et d'expertise sur les risques, l'environnement, la mobilité et l'aménagement – Centre for Studies on Risks, the Environment, Mobility and Urban Planning) and two Belgian buoys from which spectra were not available, but besides the usual significant wave height, they provide a low-frequency wave height H10 (Fig. 4). The H10 parameter corresponds to a wave height computed for periods from 10 s and longer (≤0.1 Hz). These sites cover a wide range of depths, current intensities, tidal amplitude levels, and proximity to shore, which makes them an appropriate sampling group to evaluate the overall accuracy of the results (Table 1). No assessment of potential instruments' replacements, maintenance periods, or deploy position changes has been taken into account for this study.

To match the frequencies discretization of the spectrum and output frequency (hourly) in WW3, spectral data from the in situ measurements have been first interpolated into the same discrete frequencies used in the model and then averaged in time to provide hourly output.
3.2

 Satellite altimetry data

Given the advantages of altimeters' spatial coverage, the general performance evaluation of the model results was done by comparing results with the ESA Sea State CCI V2 altimeter dataset. We used the "denoised" (Schlembach et al., 2020; Quilfen and Chapron, 2021) significant wave height (hereinafter wave height) at 1 Hz, to estimate the performance indicators in an along-track statistical analysis of the wave heights and for time-averaged values over the complete modeled domain. The adjusted denoised wave height has an along-track spatial resolution equivalent to approximately 7 km.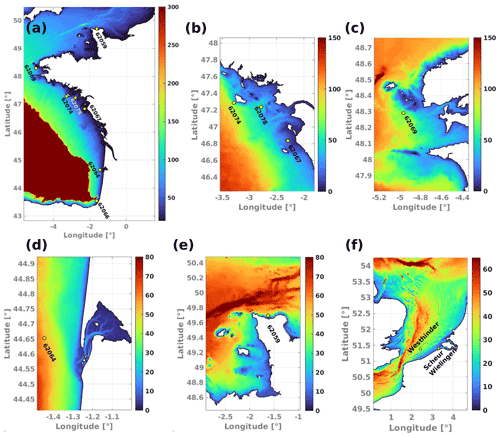 4
 Model performance indicators
We use the following statistical parameters: the root mean squared error (RMSE), normalized root mean squared error (NRMSE), scatter index (SI), mean bias (BIAS), and the normalized mean bias (NMB, hereinafter bias when expressed in percent):
where Xobs is the observed quantities from in situ or satellite measurements, Xmod is the modeled quantities (spectral values or integrated wave parameters), and N is the total number of analyzed data.
We use the term normalized mean differences (NMDs) when using Eq. (5) between different model configurations.
5
 Sensitivity analyses results and discussion
6
 Model validation with altimetry data
Satellite altimetry provides a unique resource for worldwide wave height measurements. The integration and inter-calibration of past and ongoing missions have allowed us to continuously extend the coverage of measured data in space and time (Ribal and Young, 2019; Dodet et al., 2020). These datasets have been commonly used in open-ocean applications to improve our understanding of the sea states globally. On the other hand, their application in coastal (especially nearshore) areas has been very limited due to increased noise levels in the return signal. What is regarded as noise is actually the detection of the non-Gaussian land surface, which makes it difficult to retrieve the waves' geophysical signal in the radar footprint.
The Sea State CCI V2 dataset employs the WHALES partial waveform retracking algorithm, more effective for reducing the intrinsic noise of the return signal and suitable for coastal applications (Schlembach et al., 2020; Passaro et al., 2021). The vast number of measurements available at distances from the coast lines down to 5 km and less also implies a large coverage of measured wave heights in shallower-depth areas, providing a broader description than local in situ records. Making use of the coverage and improvements in this altimeter product, we analyzed the performance of our mesh over part of the wave hindcast described in Accensi et al. (2021), which was created using the same mesh employed in the present study.
We analyzed three zones of the modeled area: the Bay of Biscay, the North Sea, and the English Channel. The purpose of the defined zones is to assess the performance of the model in different wave generation and propagation conditions. The Bay of Biscay is constantly exposed to swells radiating from the North Atlantic. In the North Sea, wave conditions are dominated by the local winds blowing over a well-defined fetch and partially influenced by the swells from the Norwegian Sea. Finally, in the English Channel, most of the swells' energy arriving from the North Atlantic is blocked, refracted and dissipated at its western end, local waves are generated over a very short fetch, and it is highly influenced by its tidal regime.
Using an along-track comparison of the modeled wave heights with respect to the altimeter-derived wave heights, the bias and scatter were computed per altimeter mission as a function of the distance to the coast, using bins of 1 km and considering wave heights larger than 1 m. To provide an idea of the lower- and upper-bound values of bias and scatter from distances of 1 km offshore up to 80 km, the performance parameters were computed over the complete available years of data per mission until 2018: from 2002 to 2012 for Jason-1 and Envisat, 2008 to 2017 for Jason-2, 2013 to 2018 for Saral, and 2016 to 2018 for Jason-3 (Fig. 17).
From distances to the coast of 15 km and more we noticed a constant positive bias ranging from 2 % to 6 % in the Bay of Biscay and in some cases going up to ∼8 % in the English Channel. In the North Sea, bias changes are more constrained between ±2 % (Fig. 17a). The positive bias in the Bay of Biscay is thought to be related to the BC obtained from the global hindcast using T475, which was calibrated with the Jason-2 data from CCI V1. These data were indeed found to overestimate wave heights recorded by offshore buoy measurements (Dodet et al., 2020), which has been corrected in V2. The English Channel stands out as a high-bias and high-scatter area, which is thought to be caused by the reduced number of valid altimeter measurements in this area and inaccuracies of the forcing fields. Finally, less influenced by the BC and with an extended fetch for wave growth, the North Sea presents the lowest bias values, which along with the lower scatter (Fig. 17b) shows the good performance of the proposed parameterization and model setup in this area.
An overall bias decrease is observed for distances to the coast smaller than 15 km, which implies that in general the wave heights from altimeters are higher than those from the model. These differences are more accentuated particularly in the Bay of Biscay at distances from the coast shorter than 10 km. Even with the higher uncertainty in modeled/measured wave heights closer to the shore, the available altimetry data down to ∼6 km offshore still provide unprecedented access to coastal information that, even at this early stage, allows us to evaluate the model performance.
In the present study we investigated the drivers of model errors in coastal areas and how choices of parameterization, forcing, spectral and spatial resolution, and boundary conditions affect the characteristics of the simulated sea states. Extensive sensitivity analyses were carried out with a high-resolution regional wave model for European coastal waters using the WAVEWATCH III framework. The performed tests and analyses aimed to assess when and where the choices in the model setup have a significant effect in regions where wave interactions with complex bathymetry, tidal currents, and bottom roughness become important in wave propagation.
Overall, spatial resolution is one of the most important elements in shallow-depth areas. We found that a higher spatial resolution adequate to solving bathymetry features and explicitly solving coastlines can introduce changes in modeled wave height of about 20 % when compared to lower-resolution global models. Differences become more significant below 400 m depth, in areas where refraction and diffraction are dominant or in regions sheltered from the most frequent swell conditions.
Changes in the energy distribution of the spectrum were analyzed mainly from two points of view, introduced by modifications in the parameterization and due to changes in directional resolution. Modification of the swell dissipation terms did not impact the wave energy distribution in the regional domain significantly, although its effect becomes important at global scales (Alday et al., 2021). In general, the applied enhancement to intensities higher than 21 m s−1 in the ERA5 wind fields improves the model accuracy at swell-exposed locations, helping to reproduce realistic energy levels for frequencies lower than 0.05 Hz, partially solving their otherwise high underestimation (more than −50 % in some cases). These findings suggest that the considerations taken to generate the boundary conditions at a global scale are one of the most important factors on shorelines exposed to waves from the North Atlantic.
Spectral energy differences due to directional-resolution choices are larger than 10 % at frequencies lower than 0.1 Hz. The effect is visible from the boundary to the nearshore in zones influenced by the BC. Differences in wave parameters (SPR, Tp, Dp) observed between model tests suggest that the proper selection of directions to define the BC and within the nested model will help to reduce random errors. It was also found that with 10∘ resolution, the GSE is successfully alleviated in the mesh.
Within areas with large tidal amplitudes, including tidal forcing (currents and levels) typically changes wave parameters by about 10 % at each output time and locally much more (e.g., Ardhuin et al., 2012). These differences are reduced for Hs and Dp for a monthly average but can still be larger than 5 % for the SPR and Tp. These findings imply that even if the average wave heights might be well estimated without tidal forcing, the propagation and evolution of the wave fields will be different. This can be observed in the Hs and Tm01 time series at buoy 62059 (Fig. 10).
Comparing wave heights retrieved from altimeter data with 1-year simulations, we identified areas influenced by bottom friction dissipation by looking at changes in Hs. We found that these changes can be observed at depths smaller than 50 m. In shallower areas of the North Sea and some sections of the Atlantic coast of France, including the SHOWEX bottom friction parameterization helps to reduce the Hs bias. Comparisons between model and in situ measurements of H10 revealed an underestimation of the wave energy in the low-frequency bands in very shallow areas. This effect could be related to a higher sensitivity of the SHOWEX parameterization in very shallow depths; thus, dissipation induced in longer wave components is overestimated with our current model setup.
Using five available missions from the Sea State CCI V2 dataset we performed a validation of the modeled wave height as a function of the distance to the coast, between the years 2002 to 2018. We observed an overall increase in wave height differences with our model for distances to the coast smaller than 10 km that can reach −8 % (on average) at 5 km from the coast. These differences are likely due to increased uncertainties in altimeter measurements within the last 10 km from the coast, where coastal features are known to strongly impact radar waveforms (Vignudelli et al., 2019).
We found that in many cases time-averaged differences between model setups or with respect to in situ data are small, but these differences can be significant at each output time, implying that the time evolution of the sea states is in fact different. This could partially explain cases with low bias and still larger random errors (e.g., SI) in some locations, when modeled wave parameters are compared with measurements.
Due to the different characteristics of the modeled domain (e.g., bathymetry features, bottom sediment type, fetch, and tidal amplitudes) the factors driving the accuracy of the model cannot be completely generalized. Instead, through the proposed analyses we have identified where changes in the wave field characteristics are more significant with different choices in forcing, resolution, and parameterizations. Yet, it is not straightforward to assess how the combination of these choices can potentially compensate for errors in the simulations. We find that boundary condition effects are most easily evaluated at deep-water or partially sheltered locations (see also Crosby et al., 2017), while separating bottom friction from other effects will require a further analysis of specific swell events.
Appendix A:
 Detailed model implementation
All simulation results presented were generated using the unstructured grid WAVEWATCH III model version 7.0. The following compilation switches were included:
physical parameterizations – LN1 ST4 STAB0 NL1 BT4 DB1 MLIM TR0 BS0 REF1 WCOR RWND TIDE

advection scheme – UQ

numerical choices – F90 NOGRB NC4 SCRIP SCRIPNC SHRD TRKNC O0 O1 O2 O2a O2b O2c O3 O4 O5 O6 O7.
In our tests, we used a few different combinations of the swell dissipation terms SWELLF7 and SWELLF4 of the ST4 parameterization (Sect. 5.2). Here we present the model namelist with its final values as defined in T475:
wave growth and swell dissipation (SIN4 namelist) – BETAMAX = 1.75; SWELLF = 0.66; TAUWSHELTER = 0.3; SWELLF3 = 0.022; SWELLF4 = 115000.0; SWELLF7 = 432000.00

wave reflection parameters (REF1 namelist) – REFCOAST = 0.05; REFCOSPSTRAIGHT = 4; REFFREQ = 1.0; REFMAP = 0.0; REFSLOPE = 0.03; REFSUBGRID = 0.1; REFRMAX = 0.5

SHOWEX parameterization (SBT4 namelist) – SEDMAPD50 = T; BOTROUGHMIN = 0.0400; BOTROUGHFAC = 1.0

unstructured grid options (UNST namelist) – UGBCCFL = F; UGOBCAUTO = T; UGOBCDEPTH = −15.0; EXPFSN = T

wind correction and others (MISC namelist) – NOSW = 6; WCOR1= 21; WCOR2=1.05.
The coast line polygons used, bathymetric data, bottom sediment type maps, and buoy data have been take from the following web portals:
Note that the CCI V2 altimeter dataset is not available to the public. Version 3 will be soon available to public access, and it is identical to V2 used in this study.
MaA and FA wrote the paper draft and analyzed the model results. GD provided the theoretical and technical background of the altimeter product used. MaA and GD analyzed the altimeter data. MaA and MiA implemented the high-resolution coastal model. MaA, FA, GD, and MiA reviewed and edited the paper.
The contact author has declared that none of the authors has any competing interests.
Publisher's note: Copernicus Publications remains neutral with regard to jurisdictional claims in published maps and institutional affiliations.
The authors would like to thank Florent Lyard (LEGOS) who provided the native mesh of the FES2014 global tide model. We also thank Aron Roland for his insights on the paper and the BGS IT&E team for their support during the mesh construction. Many thanks to the anonymous reviewers, who provided valuable observations that helped to improve the content of this paper.
This research has been supported by the European Space Agency (grant no. ESA ESRIN, contract 4000123651/18/I-N), the Centre National de la Recherche Scientifique (grant no. working contract), and the HORIZON EUROPE European Research Council (grant no. 731200).
This paper was edited by Andrew Moore and reviewed by two anonymous referees.
Accensi, M., Alday, M., Maisondieu, C., Raillard, N., Darbynian, D., Old, C., Sellar, B., Thilleul, O., Perignon, Y., Payne, G., O'Boyle, L., Fernandez, L., Dias, F., Chumbinho, R., and Guitton, G.: ResourceCODE framework: A high-resolution wave parameter dataset for the European Shelf and analysis toolbox, https://archimer.ifremer.fr/doc/00736/84812/ (last access: 12 March 2022), 2021. a, b
Alday, M., Accensi, M., Ardhuin, F., and Dodet, G.: A global wave parameter database for geophysical applications. Part 3: Improved forcing and spectral resolution, Ocean Model., 166, 101848, https://doi.org/10.1016/j.ocemod.2021.101848, 2021. a, b, c, d, e, f, g, h
Alves, J.-H. G. M., Wittmann, P., Sestak, M., Schauer, J., Stripling, S., Bernier, N. B., McLean, J., Chao, Y., Chawla, A., Tolman, H., Nelson, G., and Klotz, S.: The NCEP-FNMOC Combined Wave Ensemble Product: Expanding Benefits of Interagency Probabilistic Forecasts to the Oceanic Environment, B. Am. Meterol. Soc., 94, 1893–1905, https://doi.org/10.1175/BAMS-D-12-00032.1, 2013. a
Ardhuin, F. and Roland, A.: Coastal wave reflection, directional spreading, and seismo-acoustic noise sources, J. Geophys. Res., 117, C00J20, https://doi.org/10.1029/2011JC007832, 2012. a
Ardhuin, F., O'Reilly, W. C., Herbers, T. H. C., and Jessen, P. F.: Swell transformation across the continental shelf. Part I: Attenuation and directional broadening, J. Phys. Oceanogr., 33, 1921–1939, https://doi.org/10.1175/1520-0485(2003)033<1921:STATCS>2.0.CO;2, 2003. a, b, c
Ardhuin, F., Rogers, E., Babanin, A., Filipot, J.-F., Magne, R., Roland, A., van der Westhuysen, A., Queffeulou, P., Lefevre, J.-M., Aouf, L., and Collard, F.: Semi-empirical dissipation source functions for wind-wave models: part I, definition, calibration and validation, J. Phys. Oceanogr., 40, 1917–1941, https://doi.org/10.1175/2010JPO4324.1, 2010. a, b, c
Ardhuin, F., Dumas, F., Bennis, A.-C., Roland, A., Sentchev, A., Forget, P., Wolf, J., Girard, F., Osuna, P., and Benoit, M.: Numerical wave modeling in conditions with strong currents: dissipation, refraction and relative wind, J. Phys. Oceanogr., 42, 2101–2120, 2012. a, b
Benoit, M., Marcos, F., and Becq, F.: Development of a third generation shallow-water wave model with unstructured spatial meshing, in: Proceedings of the 25th International Conference on Coastal Engineering, Orlando, 465–478, ASCE, https://doi.org/10.1061/9780784402429.037, 1996. a
Bertin, X., Li, K., Roland, A., and Bidlot, J.-R.: The contribution of short-waves in storm surges: Two case studies in the Bay of Biscay, Cont. Shelf Res., 96, 1–15, https://doi.org/10.1016/j.csr.2015.01.005, 2015. a
Booij, N. and Holthuijsen, L. H.: Propagation of ocean waves in discrete spectral wave models, J. Comput. Phys., 68, 307–326, 1987. a
Booij, N., Ris, R. C., and Holthuijsen, L. H.: A third-generation wave model for coastal regions. 1. Model description and validation, J. Geophys. Res., 104, 7649–7666, 1999. a
Boudière, E., Maisondieu, C., Ardhuin, F., Accensi, M., Pineau-Guillou, L., and Lepesqueur, J.: A suitable metocean hindcast database for the design of Marine energy converters, Int. J. Mar. Energy, 28, e40–e52, 2013. a, b, c
Carrere, L., Lyard, F., Cancet, M., and Guillot, A.: FES 2014, a new tidal model on the global ocean with enhanced accuracy in shallow seas and in the Arctic region, EGU2015-5481, https://egusphere.net/conferences/EGU2015/OS/index.html (last access: 7 August 2018), 2015. a
Castelle, B., Marieu, V., Bujan, S., Splinter, K. D., Robinet, A., Sénéchal, N., and Ferreira, S.: Impact of the winter 2013–2014 series of severe Western Europe storms on a double-barred sandy coast: Beach and dune erosion and megacusp embayments, Geomorphology, 238, 135–148, 2015. a
Cavaleri, L. and Bertotti, L.: In Search of the Correct Wind and Wave Fields in a Minor Basin, Mon. Weather Rev., 125, 1964–1975, 1997. a
Chawla, A. and Tolman, H. L.: Obstruction grids for spectral wave models, Ocean Model., 22, 12–25, 2008. a
Crosby, S. C., Cornuelle, B. D., O'Reilly, W. C., and Guza, R. T.: Assimilating Global Wave Model Predictions and Deep-Water Wave Observations in Nearshore Swell Predictions, J. Atmos. Ocean. Tech., 34, 1823–1836, https://doi.org/10.1175/JTECH-D-17-0003.1, 2017. a
Csík, Á., Ricchiuto, M., and Deconinck, H.: A conservative formulation of the multidimensional upwind residual distribution schemes for general nonlinear conservation laws, J. Comput. Phys., 172, 286–312, 2002. a
Dietrich, J. C., Westerink, J. J., Kennedy, A. B., Smith, J. M., Jensen, R. E., Zijlema, M., Holthuijsen, L. H., Dawson, C., Luettich, Jr., R. A., Powell, M. D., Cardone, V. J., Cox, A. T., Stone, G. W., Pourtaheri, H., Hope, M. E., Tanaka, S., Westerink, L. G., Westerink, H. J., and Cobell, Z.: Hurricane Gustav (2008) Waves and Storm Surge: Hindcast, Synoptic Analysis, and Validation in Southern Louisiana, Mon. Weather Rev., 139, 2488–2522, 2011. a
Dodet, G., Piolle, J.-F., Quilfen, Y., Abdalla, S., Accensi, M., Ardhuin, F., Ash, E., Bidlot, J.-R., Gommenginger, C., Marechal, G., Passaro, M., Quartly, G., Stopa, J., Timmermans, B., Young, I., Cipollini, P., and Donlon, C.: The Sea State CCI dataset v1: towards a sea state climate data record based on satellite observations, Earth Syst. Sci. Data, 12, 1929–1951, https://doi.org/10.5194/essd-12-1929-2020, 2020. a, b
Echevarria, E. R., Hemer, M. A., and Holbrook, N. J.: Global implications of surface current modulation of the wind-wave field, Ocean Model., 161, 101792, https://doi.org/10.1016/j.ocemod.2021.101792, 2021. a
Grant, W. D. and Madsen, O. S.: Combined wave and current interaction with a rough bottom, J. Geophys. Res., 84, 1797–1808, 1979. a
Hanafin, J., Quilfen, Y., Ardhuin, F., Sienkiewicz, J., Queffeulou, P., Obrebski, M., Chapron, B., Reul, N., Collard, F., Corman, D., de Azevedo, E. B., Vandemark, D., and Stutzmann, E.: Phenomenal sea states and swell radiation: a comprehensive analysis of the 12–16 February 2011 North Atlantic storms, B. Am. Meterol. Soc., 93, 1825–1832, https://doi.org/10.1175/BAMS-D-11-00128.1, 2012. a
Hasselmann, K., Barnett, T. P., Bouws, E., Carlson, H., Cartwright, D. E., Enke, K., Ewing, J. A., Gienapp, H., Hasselmann, D. E., Kruseman, P., Meerburg, A., Müller, P., Olbers, D. J., Richter, K., Sell, W., and Walden, H.: Measurements of wind-wave growth and swell decay during the Joint North Sea Wave Project, Deut. Hydrogr. Z., 8, 1–95, suppl. A, 1973. a
Hasselmann, S., Hasselmann, K., Allender, J., and Barnett, T.: Computation and parameterizations of the nonlinear energy transfer in a gravity-wave spectrum. Part II: Parameterizations of the nonlinear energy transfer for application in wave models, J. Phys. Oceanogr., 15, 1378–1391, https://doi.org/10.1175/1520-0485(1985)015<1378:CAPOTN>2.0.CO;2, 1985. a
Hersbach, H., Bell, B., Berrisford, P., Hirahara, S., Horányi, A., Muñoz-Sabater, J., Nicolas, J., Peubey, C., Radu, R., Schepers, D., Simmons, A., Soci, C., Abdalla, S., Abellan, X., Balsamo, G., Bechtold, P., Biavati, G., Bidlot, J., Bonavita, M., Chiara, G. D., Dahlgren, P., Dee, D., Diamantakis, M., Dragani, R., Flemming, J., Forbes, R., Fuentes, M., Geer, A., Haimberger, L., Healy, S., Hogan, R. J., Hólm, E., Janisková, M., Keeley, S., Laloyaux, P., Lopez, P., Lupu, C., Radnoti, G., de Rosnay, P., Rozum, I., Vamborg, F., Villaume, S., and Thépaut, J.: The ERA5 global reanalysis, Q. J. Roy. Meteor. Soc., 146, 1999–2049, https://doi.org/10.1002/qj.3803, 2020. a
Lazure, P. and Dumas, F.: An external-internal mode cou- pling for a 3D hydrodynamical model for applications at regional scale (MARS), Adv. Water Resour., 31, 233–250, 2008. a
Le Cann, B.: Barotropic tidal dynamics of the Bay of Biscay shelf: observations, numerical modelling and physical interpretation, Cont. Shelf Res., 10, 723–758, https://doi.org/10.1016/0278-4343(90)90008-A, 1990. a
Leckler, F., Ardhuin, F., Filipot, J.-F., and Mironov, A.: Dissipation source terms and whitecap statistics, Ocean Model., 70, 62–74, 2013. a
Leonard, B. P.: The ULTIMATE conservative difference scheme applied to unsteady one-dimensional advection, Computational Methods in Applied Mechanical Engineering, 88, 17–74, 1991. a
Marechal, G. and Ardhuin, F.: Surface currents and significant wave height gradients: matching numerical models and high-resolution altimeter wave heights in the Agulhas current region, J. Geophys. Res., 126, e2020JC016564, https://doi.org/10.1029/2020JC016564, 2020. a
Masselink, G., Castelle, B., Dodet, T. S. G., Suanez, S., Jackson, D., and Floc'h, F.: Extreme wave activity during 2013/2014 winter and morphological impacts along the Atlantic coast of Europe, Geophys. Res. Lett., 93, 2135–2143, https://doi.org/10.1002/2015GL067492, 2015. a
Masselink, G., Scott, T., Poate, T., Russell, P., Davidson, M., and Conley, D.: The extreme 2013/2014 winter storms: hydrodynamic forcing and coastal response along the southwest coast of England, Earth Surf. Proc. Land., 41, 378–391, 2016. a
Passaro, M., Hemer, M. A., Quartly, G. D., Schwatke, C., Dettmering, D., and Seitz, F.: Global coastal attenuation of wind-waves observed with radar altimetry, Nat. Commun., 12, 1–13, 2021. a
Pineau-Guillou, L.: PREVIMER, Validation des atlas de composantes harmoniques de hauteurs et courants de marée. ODE/DYNECO/PHYSED/2013-02, https://archimer.ifremer.fr/doc/00157/26801/ (last access: 7 August 2018), 2013. a
Ponce De León, S. and Soares, C. G.: Hindcast of the Hércules winter storm in the North Atlantic, Nat. Hazards, 78, 1883–1897, 2015. a
Quilfen, Y. and Chapron, B.: On denoising satellite altimeter measurements for high-resolution geophysical signal analysis, Adv. Space Res., 68, 875–891, https://doi.org/10.1016/j.asr.2020.01.005, 2021. a
Rascle, N. and Ardhuin, F.: A global wave parameter database for geophysical applications. Part 2: model validation with improved source term parameterization, Ocean Model., 70, 174–188, https://doi.org/10.1016/j.ocemod.2012.12.001, 2013. a
Ribal, A. and Young, I. R.: 33 years of globally calibrated wave height and wind speed data based on altimeter observations, Sci. Data, 6, 77, https://doi.org/10.1038/s41597-019-0083-9, 2019. a
Roland, A.: Development of WWM II: Spectral wave modelling on unstructured meshes, PhD thesis, Technische Universität Darmstadt, Institute of Hydraulic and Water Resources Engineering, https://www.academia.edu/1548294/PhD_Thesis_Spectral_Wave_Modelling_on_Unstructured_Meshes (last access: 13 July 2018), 2008.  a
Roland, A. and Ardhuin, F.: On the developments of spectral wave models: numerics and parameterizations for the coastal ocean, Ocean Dynam., 64, 833–846, https://doi.org/10.1007/s10236-014-0711-z, 2014. a, b, c, d, e, f
Salmon, J., Holthuijsen, L., Zijlema, M., van Vledder, G. P., and Pietrzak, J.: Scaling depth-induced wave-breaking in two-dimensional spectral wave models, Ocean Model., 87, 30–47, https://doi.org/10.1016/j.ocemod.2014.12.011, 2015. a
Schlembach, F., Passaro, M., Quartly, G. D., Kurekin, A., Nencioli, F., Dodet, G., Piollé, J.-F., Ardhuin, F., Bidlot, J., Schwatke, C., Seitz, F., Cipollini, P., and Donlon, C.: Round Robin Assessment of Radar Altimeter Low Resolution Mode and Delay-Doppler Retracking Algorithms for Significant Wave Height, Remote Sens.-Basel, 12, https://doi.org/10.3390/rs12081254, 2020. a, b
The WAVEWATCH III® Development Group: User manual and system documentation of WAVEWATCH III® version 6.07, Tech. Note 333, NOAA/NWS/NCEP/MMAB, College Park, MD, USA, 465 pp. + Appendices, 2019. a, b, c
Tolman, H. L.: A third generation model for wind on slowly varying, unsteady and inhomogeneous depth and currents, J. Phys. Oceanogr., 21, 782–797, https://doi.org/10.1175/1520-0485(1991)021<0782:ATGMFW>2.0.CO;2, 1991. a
Tolman, H. L.: On the selection of propagation schemes for a spectral wind wave model, Office Note 411, NWS/NCEP, 30 pp + figures, 1995a. a, b
Tolman, H. L.: Subgrid modeling of moveable-bed bottom friction in wind wave models, Coast. Eng., 26, 57–75, 1995b. a
Tolman, H. L.: Alleviating the garden sprinkler effect in wind wave models, Ocean Model., 4, 269–289, 2002. a
Tolman, H. L. and Booij, N.: Modeling wind waves using wavenumber-direction spectra and a variable wavenumber grid, Global Atmos. Ocean Syst., 6, 295–309, 1998. a
Vignudelli, S., Birol, F., Benveniste, J., Fu, L.-L., Picot, N., Raynal, M., and Roinard, H.: Satellite altimetry measurements of sea level in the coastal zone, Surv. Geophys., 40, 1319–1349, 2019. a
Wu, W.-C., Wang, T., Yang, Z., and García-Medina, G.: Development and validation of a high-resolution regional wave hindcast model for U. S. West Coast wave resource characterization, Renew. Energ., 152, 736–753, https://doi.org/10.1016/j.renene.2020.01.077, 2020. a, b
Yanenko, N. N.: The method of fractional steps, Springer-Verlag, ISBN 978-3-642-65110-6, 1971. a